Do you know Apple's FC-BGA Chip Demand Will Be Met by Samsung? According to a SamMobile rumor, Apple will get an FC-BGA processor from Samsung for its next M2 CPU. The subsequent increase in demand for Apple's substrate chip in Samsung's most recent MacBook laptop, tablet, and iPad models will be satisfied.
Thus, Samsung will be Apple's main supplier of the cutting-edge, high-tech FC-BGA substrate (flip-chip ball grid array). For the record, Apple released the ARM-based M1 microprocessor in November 2020, although it was based on the ARM architecture used in British computers.
Apple's FC-BGA Chip Demand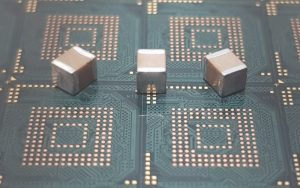 ABOUT FC-BGA CHIP
The most recent version of the Apple M series will be unveiled later this year. The effective production of hardware chips will bring Samsung tremendous financial benefits.
Currently, a deal between Samsung and American tech behemoth Apple is very likely. It is significant to remember that a Korean phone manufacturer is investing a whopping $1 billion on a Vietnam-based FC-BGA manufacturing facility. Additionally, Samsung's South Korean semiconductor production facility has already generated over $241 million in revenue.
A substrate known as FC-BGA is used to make chips. It basically consists of a thin copper wire that transmits user input to the chips and returns the results to the user. Due in large part to the enormous number of circuit connections this chip has, its primary applications are in CPUs and GPUs.
Read More: 10 of the Best Platforms to Sell Ebooks Online
FC-BGA is used to link high-density semiconductor chips to the mainboard, which powers and transmits electrical signals to them. If the supply works out, Samsung will profit greatly.
For its phones, including the iPhone 12 and 13 models, Apple has already received the rigid flexible printed circuit board (RFPCB) from Samsung. Only a few companies have offered Apple FC-BGA chips due to production technology entry restrictions.
Samsung isn't the only business that can make FC-BGA substrate chips; others include Taiwan's Unimicron Technology Corporation, Japan's Shinko Electric Industries, Ibiden Company, and Nanya Technology Corporation.
Industry experts believe that if the deal closes successfully, the two IT giants' cooperation would be increased.