Do you know The Different Types Of Business Collaboration? Thinking in very competitive terms can be commonplace in business. The benefits you can receive, the earnings you make, and the goals you met or failed to reach. It might be simple to become so preoccupied with the idea of acquiring an advantage over your competitors' companies that you frequently fail to consider collaborating in any significant sense at all – how would that function when you're striving to come out on top?
There are a variety of perspectives on collaboration in business, and it's crucial to keep in mind that you only compete with companies in your field for your consumers' attention, not with every company in existence.
Read More: WhatsApp to introduce Audio Status
Enlisting Professional Services
This type may be the most obvious one that comes to mind, and since it takes the shape of a business transaction, you may not even realize that collaboration is taking place. However, you're still relying on another company to fill in the gaps in your company, covering your bases to outperform what you would have otherwise accomplished. It may be a one-time occurrence, but there are times in company when you require a service like a graphic designer or a video production studio to assist you create marketing materials that will really catch the attention of your target customers.
Sometimes, though, the problem may be more established, allowing you to get over a challenge brought on by the reality of conducting business in the modern world. One illustration of this type of issue is the language barrier that you could frequently experience when doing business abroad, particularly when it comes to challenging and intricate subjects like the ins and outs of finances. Enlisting Financial Translation Services can help you deal with this problem when it occurs, and it's a form of collaboration that may be more important because these skills aren't something you consider to be essential for those working for your company. Knowing where to go when the situation calls for them can be helpful.
When you merely hire specialists for building or maintenance, you might not think of it as much as a cooperation, but when the need puts you in front of the public, their participation stands out as being something that was initially separate from you. It doesn't mean you had no input into the creation of the final product, but for some people, this distinction may be crucial.
A Marketing Campaign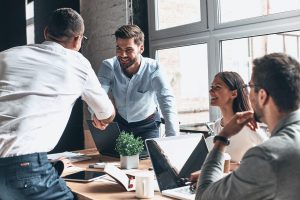 While hiring professionals can help you enter a marketing campaign in the best shape possible, there are also more mutually beneficial kinds of partnership that can provide a fairly unique form of advertising. You may be familiar with these kinds of partnerships, where two companies, sometimes from different industries, work together to create a limited-time offer or product that sparks interest among both of their respective audiences and brings either company to the attention of audiences who may not have previously thought about them. In the social media era, when you can broadcast and share what's going on across various pages and channels, getting as many people interested as possible, this can be considered extremely fruitful.
Furthermore, the introduction of occupations like influencers is something else that the current age contributes to this. While someone in this position might not have the resources at their disposal to work on a product in the same way that traditional firms might, bringing a business's offerings to the attention of their sizable audiences might assist direct new customers in that direction. Making the most of your social media presence can help you provide newcomers with the greatest first impression possible. This may entail that the company offers a sponsorship or limited-time promotion in exchange.
These kinds of partnerships don't always have to be one-off events; in some cases, a fruitful collaboration may inspire interest in a subsequent one. Establishing a solid rapport now may be helpful for developing this further in the future.
For the Good of the Consumers
Sometimes, the cooperation itself has little to do with marketing or advancing your own career. This may seem strange because it's hard to think of many business endeavors as worthwhile if they don't ultimately advance your business goals in some way. However, you can come across a circumstance in which the environment you're operating in changes. Perhaps there has been a shift in society perceptions of one aspect of it, or perhaps practices have evolved in some sectors of the industry that are taboo. Those who are involved in that environment may find it advantageous at this moment to remove themselves from the debate, which may prompt you to issue an agreement or joint statement intended to reassure your audiences. that all is well as far as your brands are concerned, developing a sense of trust moving forward.
Of course, you can view this circumstance differently and perhaps perceive an opportunity in it. a chance to distinguish yourself from every other company in your field, including those that are also attempting to put the unpleasant situation behind them. Your preferred course of action will be clear to you in this circumstance, but it might be advantageous to present a united front in order to distance yourself from the initial problem. After all, if you're considering trying to tie your competitors into it, the likelihood is that they're thinking along similar lines.
Of course, you can't always control these circumstances, and the discussion of these topics on social media platforms might result in rumors and unverified stories that influence people's opinions before you've had a chance to respond. Having a solid PR strategy in place is crucial in this situation, but cooperation might also mean working together for the sake of a common goal and a shared desire to appear as powerful as possible in front of your audiences by putting the dispute as far in the past and away from you as possible.
Acquisitions and Mergers
You'll probably reach a stage as your firm develops that you begin to consider how it might grow. Growth may seem exponential by nature, but it may be helpful to consider the phases that are actually involved in this process. Growing here might entail building additional branches or sites, but it might also mean that you have to consider acquiring smaller businesses. It might become more challenging to simply expand in the methods that you have done previously. This will certainly be more effective for some business models and types than others, and it's vital to keep in mind that such a move won't always be easy or even advantageous, so you have to carefully consider it.
Of course, there are instances where the company won't be significantly smaller than yours, if at all, therefore you might be considering a merger rather than an acquisition, in which two companies simply merge to form a single entity. These kinds of collaborations are permanent ways of expanding your pool of resources and capabilities, so understanding all aspects of them might help you see the benefits. However, because they could cause changes to your company's operations and structure, they might not be your first port of call.
However, it's also crucial to keep in mind the possibility that a much bigger fish with plans to grow its own firm may have its sights set on your organisation. It's simple to see this as a complete loss or some other kind of failure, but it's crucial to keep in mind that some companies are sold off to larger ones for a variety of reasons. In some cases, the capabilities provided by those much larger companies can allow the talent to work in a way that they hadn't previously – although obviously, this isn't always the case.
What's Best for You
Even if you might believe that considering acquisitions is getting ahead of where your firm is at the moment, it's still necessary to plan ahead. In order to offer material and communications that are far more professional and robust than you could before, it's also likely that you feel more pressured to hire professionals, outsource whenever possible, or consider contacting other businesses.
Whatever the case, realizing that collaboration is essential to business operations may cause you to reevaluate how you view the overall business environment and its potential.