Do you know 10 top brain-training apps to improve your intelligence? It is no secret that as we age, neither the structure nor the capacity of our brains remains the same. Although it is true that one can't deny the reality that one can influence the other, there is much more to the saying "a strong body makes for a smart mind" than just that.
Your brain's ability begins to deteriorate as you get older, but this is completely normal and is just a part of the natural cycle of aging. Thus, maintaining the flexibility of your brain cells requires more than just physical exercise. Whether you're reading, writing, creating art, or working through riddles or math difficulties, your brain needs additional stimulation.
You need a cerebral workout now and then to break up the monotony. It doesn't always entail running to a counselor or therapist right away. You can use a variety of wonderful smartphone applications. These apps, created specifically for mental exercise, target particular brain regions and regulate bad emotions. Additionally, they aid in memory enhancement and mental acuity development.
New views are emerging despite the widespread belief that exposure to technology dulls the human brain. First, there is growing evidence that technology cannot be held responsible. Researchers from the University of Montreal claim that every facet of contemporary living, including technology and dietary habits, has the potential to harm the brain.
And no, it doesn't require a dedicated trainer. All you need to keep your brain's neural pathways active and improve cognitive performance is your smartphone.
So, before it's too late, you might want to take charge of your thoughts. Thankfully, there is a tonne of brain-training apps available for iOS and Android users. Therefore, rather than idly staring around the next time you stand in line at the grocery store, you can make the time worthwhile.
To sharpen your brain, explore the following entertaining apps:
1. Lumosity
There are 60 million Lumosity users worldwide. It is renowned for its uniqueness and excitement in its training program. Depending on how well users perform, it adjusts the difficulty levels and offers them personalized challenges.
One of the original brain-training apps over ten years old, Lumosity is regarded by many as the most seasoned of the lot. It is built on mini-games that enhance focus, memory, language, speed, and problem-solving abilities by stimulating the mind. The fact that this app has more than 85 million users worldwide attests to its success. Additionally, Lumosity's collection of games was created using neurological research, making it safe for anyone looking to stretch their mental abilities.
After learning more about the skills you're interested in developing, Lumosity will conduct a fit test to evaluate your current proficiency and establish your starting level. The finest feature of this app is how it customizes your daily workouts and provides insights into your performance so you can identify your strongest and weakest areas of performance.
Your door is greeted by free daily brain training exercises from Lumosity. Your memory, processing speed, focus, flexibility, and critical-thinking abilities all improve as a result. Additionally, you can play more than 40 simple and fast mental games. A Fit Test initially assesses your mental capacity and compares you to people in your age group.
By disseminating the tools and training methods to competent university professors and researchers, inventors want to advance our understanding of human cognition.
2. Clockwork Brain Training
The adorable tiny golden robot that comes to introduce the game before each session can win your heart. The games are somewhat comparable to those on Lumosity, but they also serve as a historical reminder. The game has an archaic vibe to its appearance and feel.
Similar to previous apps, this one's games emphasize language, dexterity, attentiveness, and memory. With each level of the game's seventeen intriguing puzzles, the level of difficulty rises. Additionally, you can accumulate tokens from your daily gameplay sessions and use them to open up special play modes.
Like others, it enables you to view detailed monthly graphs that show your development.
Read More: How to Start a Podcast the Right Way
3. TED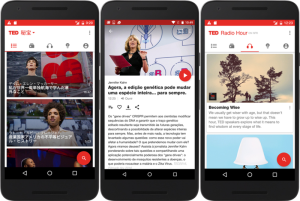 We can't expose ourselves to formal education due to our hectic schedules. And TED is pretty good at it.
There are more than 3,000 speeches from thought leaders, innovators, and executives in the industry. On your phone or tablet, you may stream it online and search for content based on your interests or mood. Additionally, you can make a specific list and download videos to watch at a later time.
4. Happify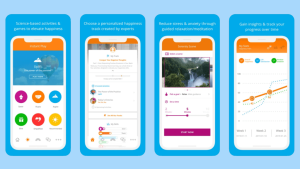 Happify is your best choice if you're looking for happiness as more than just a way to sharpen your brain. It provides polls and quizzes to assist you in overcoming despair and anxiety. Additionally, it imparts positive thinking through its relief and meditative features.
Remember, though, to read user and developer reviews before downloading this or any other software from the store.
Happify currently enjoys a solid reputation in the industry. It has a tonne of useful features.
5. Elevate
We want to start by stating that Elevate holds the distinction of being the best iPhone app of 2014. Even though a lot of time has passed since then, this program is still a favorite among users. So what distinguishes it?. Additionally, independent research carried out by Dana Nakano at California State University suggests that the app enhances students' academic achievement. Additionally, Elevate's creators guarantee that the more you utilize this program, the more
Elevate helps you become a better communicator. It brings problems on a daily basis that put your ability to observe and evaluate to the test. It offers a test, for example, to help you identify grammar errors in the text. These tasks are brief and easy to do. The focus, processing, math, language, and speaking skills are the emphasis of more than 35 games.
This software provides individualized brain training exercises and was developed by professionals in cognitive learning and neuroscience. Additionally, it monitors the players' progress to assess their mental growth.